Ok, this is not my normal blog post but I just had to share these photo tip that have been game changers for me. I know that I appreciate so much when others share their tips with me too.
I love to be organized. Sometimes I have the best of intentions and well…I'm a mom of 3. So many days I consider it a successful day if the clothes in the washer don't become sour before they get to the dryer. Don't ask me how many times we've discovered one of us is wearing a sour shirt after the fact when we're away from home. It's too embarrassing to admit and become a family joke when we go in for a hug.
My office was being taken over with sticky notes, notepads with to-do lists. I even had one on my phone too. I couldn't keep up with it all. This summer has been quite challenging trying to run a very busy business with three kids at home and all by myself. I needed help…like yesterday.
Then I read about this organization system from Katelyn James that has seriously been a LIFESAVER. It's called Trello and it's FREE! I love it so much that I have a personal to-do board and a RIL to-do board.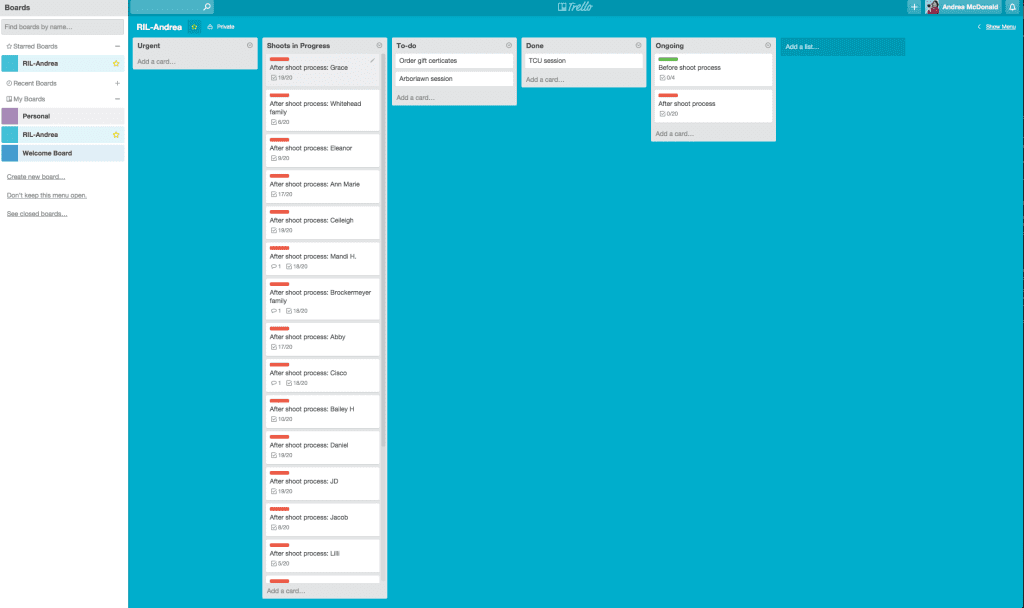 Then within each board you can create a list. For me those include Urgent, Shoots in Progress, To-do, Done, On-going.
Then it gets even better and where my super nerd organization freak flag comes out. You can create a checklist within each list. Here's an example I have of a shoot in progress.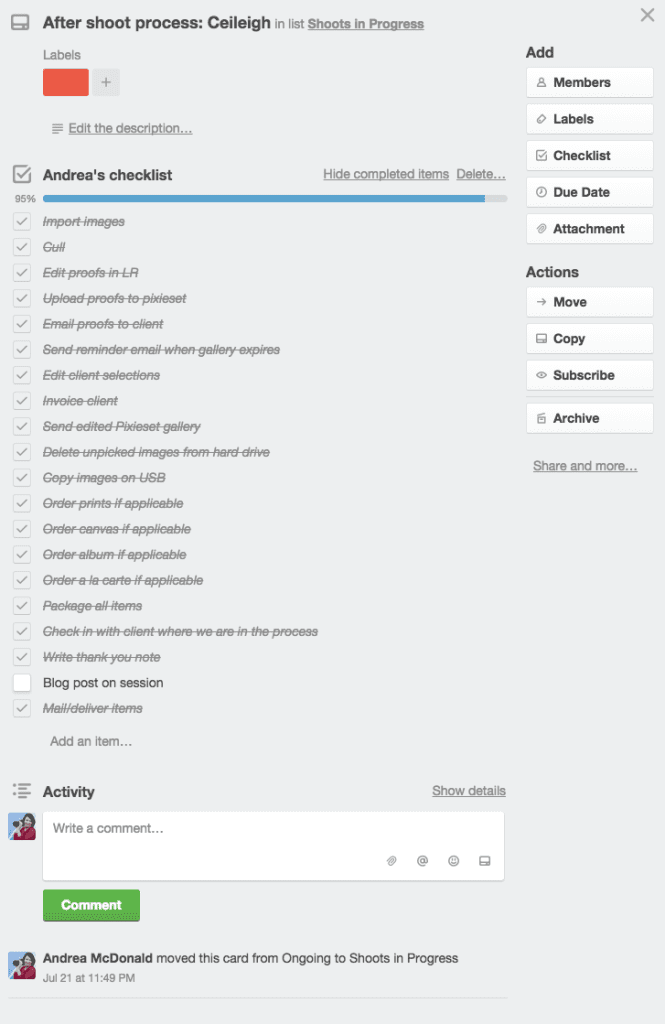 You can even set due dates, reminders, add other members if you have other people who are part of your to-do list so they know where something stands. I know at any given point where I am with a client. This has helped me so much in customer service and my sanity.
The best part is that I can access it from an app or on my desktop. So when I run to the post office, bam, check that baby off!
Katelyn even has a short video that shows how to utilize this that really helped me.
I hope that you found this as helpful as I have. I use it every single day. Love things that help me spend more time with my family!